The Pressinatrix Has Such Good Friends
Darlings, your Pressinatrix has had a bad week. She installed her new Reliable boiler iron at the office, and has been happily pressing away. But The Pressinatrix also sews at home, and therefore is in great need of her pressing equipment there as well.
Alas, tragedy struck.
You see, The Pressinatrix believes that her home iron, a wonderful Consew gravity feed that has served The Pressinatrix dutifully for nigh these last seven eight years – my, how time flies. Well, The Pressinatrix believes that her Consew discovered that The Pressinatrix had taken up a dalliance with the Reliable. It seems that the poor Consew decided to throw itself from the ironing board like Tosca from Scarpia's parapet.
Heartbreak ensued. Or at least iron break. You see, The Pressinatrix was unaware of this ill wind until her son needed to have his dress pants let down. The Pressinatrix, proud mama that she is, indulgently smiled, patted her (now taller than she is) son on the head and went to work re-hemming said pants. Of course, The Pressinatrix finished her handiwork with a thorough pressing. While doing a final pass on the inside hem, she noticed an acrid smell. "Ach du lieber!" she exclaimed. In its flight from its perch, the Consew had lost its protective heat shield, and the pant hem had a big scorch mark on it. (Note to The Pressinatrix – don't buy the kid any more clothing at Kohls. It melts.)
Fortunately, the hole left by the intense heat was on the inside of the hem, so no one could see it, but it was a complete sartorial tragedy only narrowly averted because of The Pressinatrix' quick reflexes. Here you can see the detritus left on the very hot metal bolt, which is usually guarded by the heat shield.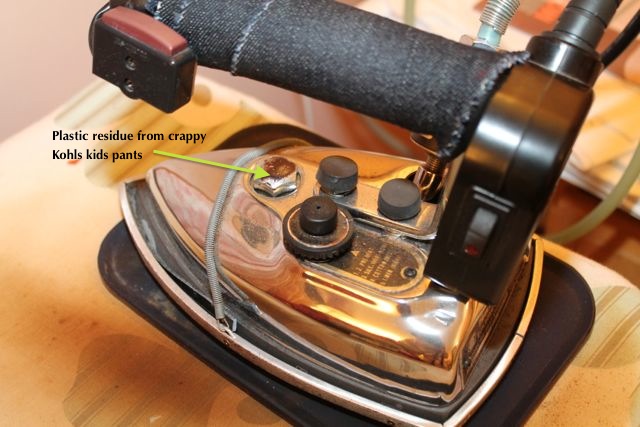 Unfortunately, The Pressinatrix' lesser self alter ego would not allow The Pressinatrix to run out and purchase another Reliable. Oh no, there was muttering about college tuition, mortgage payment and an upcoming family wedding. As if those matter one whit compared to the pressing needs of your Pressinatrix! Get it? Pressing needs? Oh, The Pressinatrix does amuse… But I digress.
The Pressinatrix lamented this state of events to her friends, when one of them, Dearest Mary Beth of The Stitchery, offered The Pressinatrix her old Naomoto gravity feed iron, which has been in storage since The Stitchery moved to smaller quarters. Such a dear pressing friend!!! The Pressinatrix cannot express the gratitude and verklemt feelings that wash over her at such generosity of spirit! Mary Beth only asked that I give the Naomoto a good home and a name. So to that end, may I present to you…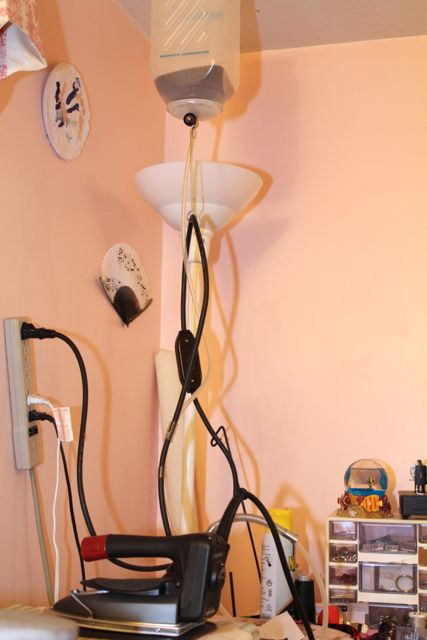 wait for it…
Naomi!
Naomi has already taken her place of honor at the pressing table. DH will be bringing home distilled water for her tonight after his big band practice, and then we'll be off to the races! Thank you, Mary Beth!
xox
The Pressinatrix