So, What Did You Cut Into This Weekend?
I spent much of yesterday in my sewing room for International Cut Into That Fabric Day. How about you? Did you cut into something? Please share if you did! Add a link to your blog, pinterest or Facebook if you have it. Me, I finally sliced into an Armani stretch cotton that I bought before I started Gorgeous Fabrics. That makes it more than 7 years old. That's past the statute of limitations, right? I'm not even sure where I bought it. I was a bit of a Tasmanian Devil back then, buying fabric wherever and whenever I saw it. Much of said fabric ended up in the hands of the local drama department, where I saw some on display in the high school musical this weekend! More on that later. In the meantime, I had all sorts of plans for my stash fabric.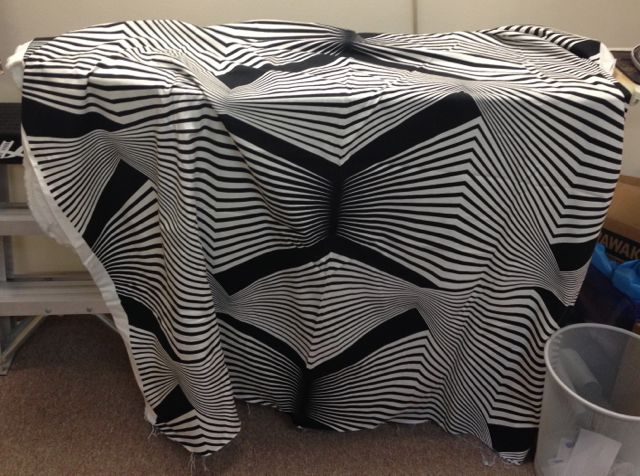 The thing that flummoxed me about this fabric was the print. It's a very large geometric print that, in the parlance of computer graphics is transformed 180º around the y-axis. That makes it both interesting and tricky to lay out. There's a line down the middle of the fabric and the print mirror images, but upside down. I only have 2 yards of this fabric, so even if I drive myself batty trying to match the prints across, there is no way to do it across every seam line (I would need about double what I have to do that). So guess what? Every once in a while you have to say "What the f***" and that's what I did.
I knew I wanted a dress. I thought about a simple sundress, with minimal style lines, but nothing in the pattern books or websites appealed. I love princess lines for the design possibilities, but those present pattern matching difficulties if you don't have lots of fabric for your pattern layouts. So I ended up back at a dress pattern I have made before and love very much: Vogue 8787.

There was no way I was going to match pattern motifs, so I thought about what my designer friends do: screw it. I opted against going for a symmetric motif style. Besides, who wants chevrons pointing the way to heaven, right? So after laying my pattern pieces (which I mirrored and laid out with a single layer layout)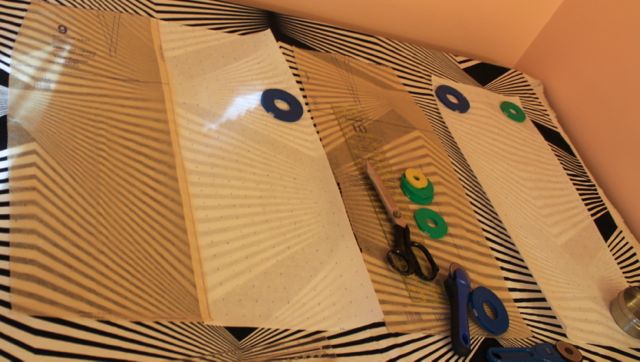 I moved them around to find an interesting and slightly astigmatism-jarring layout. I figure I might as well go for making the eyeballs vibrate with this print, right?
I cut everything in a single layer. It takes extra time to prep the pattern pieces, but not very much, and this way I had complete control over where the pattern pieces fall on the motifs. You can see more about this on the video Tricksy Fabrics.
The other thing I decided was to cut the midriff pieces from solid black… patent leather! I went back and forth, and finally decided that leather was a fun choice that would change the entire tenor of the dress.

In other news, DS the elder was home this week on college spring break, and DS the younger performed in the musical at the high school, "Grease". It was a wonderful family week! Here's a picture of him doing his big solo. He plays Doody, one of the T-Birds, and he plays guitar in several songs, including his solo "These Magic Changes".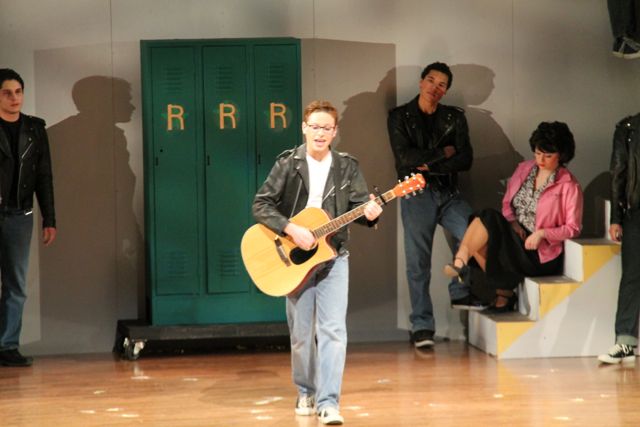 So, what did you cut out this weekend????
Happy sewing!