Folks, it has come to my attention lately that there's a lot of tailored sewing going on in blogland. That's great! I'm so happy to see tailoring, and see people stretching their sewing wings.
But here's where I need to call everyone's attention to something.
Padstitching.
I love padstitching. I find it to be quite soothing. Padstitching your garment gives it shape and support that, while never actually seen, is a crucial part of a well-made tailored garment.
But here's the rub. The point of padstitching is to give shape to part of a garment. Take a look: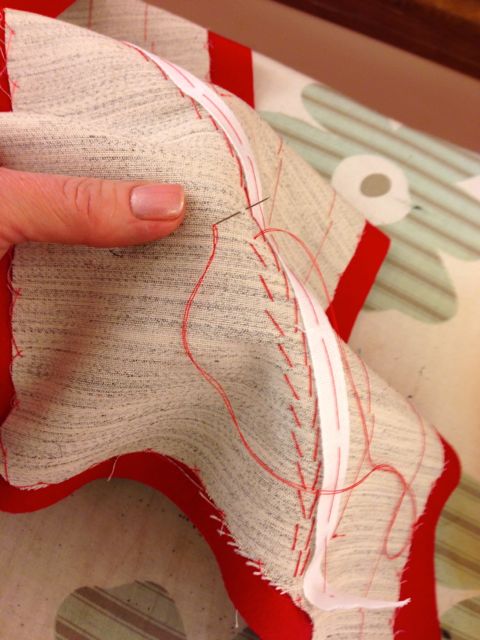 What you can't see from this picture is that my fingers are under the lapel, gently curving it over as I padstitch. This gives it a three-dimensional curve that will lay beautifully against the body.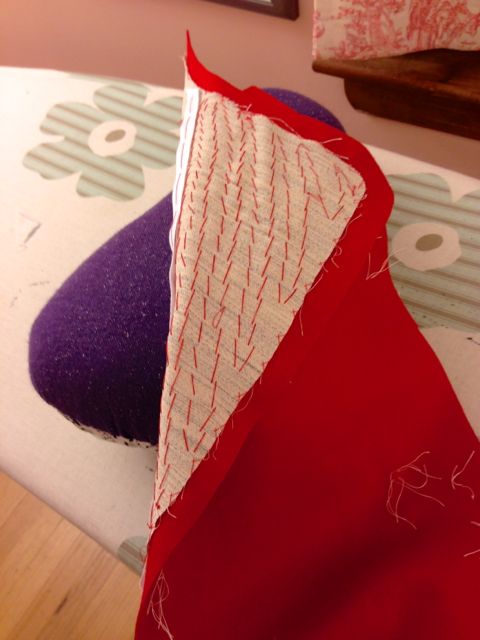 The lapel rolls over in a languorous, soft curve, not a flat-against-the-body flap.
Padstitching on a flat surface defeats the purpose. I mean, if you are going to flat-padstitch, save yourself some time and just fuse your interfacing. It will give you the same results. Please know that I'm saying all this with love, not to be a scold. It's just that padstitching on a flat surface really doesn't add anything to your garment in terms of shape or turn of your cloth.
There are some wonderful tutorials for doing padstitching on the internet. In my never-terribly-humble opinion, one of the best out there is Paco Peralta's Tutorial. Clear, with fantastic photographs. An excellent resource.
I hope that helps a bit. I'm also hoping that this weekend I'll finally be able to spend some well-deserved time on my (padstitched) Marfy coat.
Happy sewing!