The Marfy Coat is Coming Along…
It's just that this is the part of the project that's like drywall. Lots happening but nothing is very interesting to look at. The coat is completely cut out – shell, lining and interfacing. We had guests again this weekend (more on that later) so I wasn't able to work on it much until today. And what I worked on today was getting the inner structure ready to go.
Like any tailored coat, this one will be well interfaced. I cut out all the base interfacing pieces: the facings, the collar stand, the under-collar. And I'm considering what to use for a chest shield, or if I even want one on this coat. I spent a lot of time today going through some old Threads books (Great Sewn Clothes and another whose name currently escapes me) to remind myself about tailoring techniques. I'm trying to balance the standard techniques with current style mores, which is always an interesting mental exercise. Most of the tailoring books (not the textbooks: I'm talking about the books written for the home-sewing public) were published before 1990, so it is a fun mind game to figure out how to adapt to current technologies.
So what did I do today? I attached the interfacing to the collar-stand and under-collar pieces. Thanks to the Threads books, I tried a technique on the under collar: stitching the interfacing to muslin. Basically, you cut the interfacing up to but not into the seam allowance, then you stitch it to a piece of muslin, which is cut to the size of the pattern piece including the seam allowance: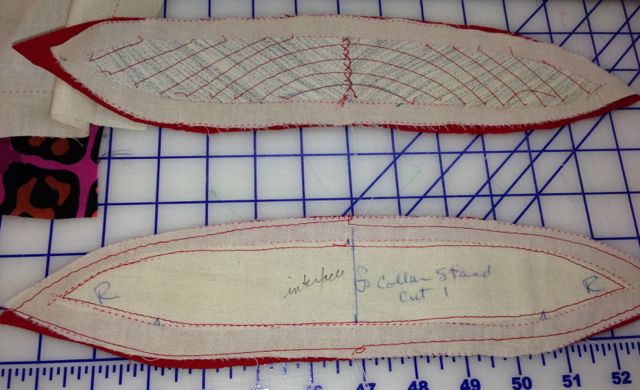 I haven't decided if I want to interface both collar stand pieces. I'm thinking only the under collar (the one with the machine stitching). I was going to do the same thing with the under collar, but I could only find one muslin piece from my test garment, so I decided instead to just catch stitch the pieces to the wool.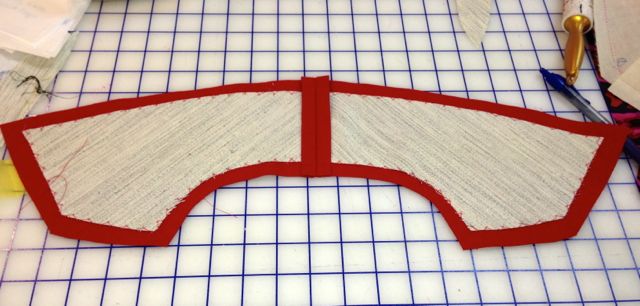 I sewed the under-pieces together, and I'll be doing pad stitching over the next few days. So like I say, lots being done, not a lot to look at.
I mentioned that I had company this weekend? Last night was the Winchester Hospital Gala to benefit the Breast Care Center. We got the band back together – every year a bunch of us from our 'hood go to this event. Can I tell you? We are THE party table. 🙂
This is the only fancy dress event I go to all year, and I usually make a new outfit. This year, thanks to my Marfy coat, I didn't have time to make a new dress, so I wore a bright red four-ply silk dress (Butterick 4343) that I made several years ago for a recital. It's very plain, very Audrey Hepburn-esque, with a little fun detail that you can't see from this picture – I used Susan Khalje's embellished zipper technique and sewed sequins with seed beads along the zipper. It's one of those things that people look at the dress and then go – hey! That's really cool!
Here's a picture of most of the group. BFF Barb and BFF-in-law Kevin weren't able to make it in time for the group photo.
A great night was had by all, and a lot of money was raised for the Breast Care Center. And at the end of the evening, they gave us a beautiful floral centerpiece to take home!
Happy sewing!