Progress on the Marfy Coat
I didn't have any time this week to sew. Work, travel for work, the aftermath of travel for work, and more work all meant that I've been busy as can be. Plus we have dear friends staying with us this weekend while they tour colleges with their daughter. These are folks we've known since we were in college, and once the old crowd found out they were coming up, everyone wanted to see them, so we had an impromptu dinner party at our house last night. It was a blast! Watch a bunch of middle-aged folks instantly turn back into the 19-21 YOs we were when we all met. Talk about setting your clocks back!
But today, everyone cleared out, and I had time to work on my Marfy coat. Yay for me! I pulled the muslin apart to use as my pattern. Since all the fitting is done now. I adjusted the seam allowances on the muslin pattern. I'm using 1 inch seam allowances in all the major seams, 2 inch hems, and 1/2 inch seams in the facings, shoulders, armscyes and cape pieces. Adjusting the pattern for that takes a fair amount of time. It's not very exciting, but it's a crucial step. Once that's done I can actually start cutting out my coat, which I was able to start today. I'm taking my time and I'm using tailors tacks to mark my fabric.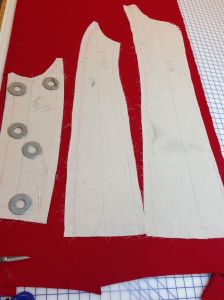 Hmmmm, just realized I want to re-cut the undersleeve on the bias. I also decided to trim about 4 inches from the length. Take a deep breath and…
This week I'll continue to cut and mark. I need to get some sew-in hair canvas interfacing. I'd like to have the coat nearly complete the weekend before Thanksgiving. DS the Eldest will be marching in the Macy's Thanksgiving Day Parade with the UMass Minutemen Marching Band that day. DS the younger is going out for Drum Major in the HS band this year, so he has to stay here for the Thanksgiving game. DH and I flipped a coin to see who would stay home and who would go to New York. He's going down on Wednesday, so I would like to send him to Jonathan with the coat to have them do the buttonholes. But there's also a greater than 0% chance that I'll be there the week before, so we'll see. I have a long way to go, and I'm not going to rush. I'll keep you posted as I progress.
Happy sewing!