Ah, Burda, how you taunt me. Every time I am tempted to make one of your patterns, I am confronted with your spaghetti bowl of patterns that I have to trace off.
And then I have to add seam allowances.
And then I have to decipher your lousy instructions.
Add to that my compulsion to run up a muslin and work on the fitting issues of anything that has more than a few pieces, and I usually say, "Nah."
Allow me a mini-rant here. I know that many people adore Burda World of Fashion – renamed a couple of years ago to Burda Style. To me, the fact that they cram a ton of patterns on one page and make the user both trace the pattern out of the spaghetti dinner on that page AND add seam allowances is lazy and disrespectful of their customers. Other pattern companies are able to put out stylish patterns on a regular basis, but they also manage to add seam allowances, and some of them even manage to put decent instructions out there. Not Burda, so I have never felt the love. End of rant. Now back to the review.
For this project, I had a specific look I wanted, and I didn't have time to go to the local JoAnn or scour the internet to order it. I have several years worth of BWOF magazines gathering dust on my shelf, so I flipped through one and found the tunic I was looking for. It's Tory-Burch-esque. I can't find a picture online of it, so I'll snap a photo later from the magazine and add it to this review.
Pattern Description: Pullover tunic top (also dress-length) with deep banded neckline, side slits, long sleeves with banded hem.
Sizing: 38-48, IIRC. I made a 40.
Fabric Used: Fabulous M!lly silk/cotton voile from Gorgeous Fabrics

Needle/Notions Used: Universal 60/8 needle, thread. That's all. I skipped interfacing because I wanted this to be very airy.
Tips Used during Construction: Sew from Wide to Narrow (Video Here)
And Now, A Word from the Pressinatrix (Video Here)
Setting a Sleeve into an Armhole
Did it look like the photo or drawing when you got through? Yes, more or less.
How were the instructions? Pfeh. I didn't use them.
Construction Notes: I did a few things differently from what I think the instructions were trying to tell me. I decided as I was tracing the pattern that I would construct the band like the neckbands on the last few StyleArc patterns I made. So I cut out two of each neckband and sleeve band. I doubled the layers of the neckband and the sleeve bands, sewed them together, understitched them and then applied them to the bodice and the sleeves. Here's a picture of the bands sewn together, waiting to be attached to the top: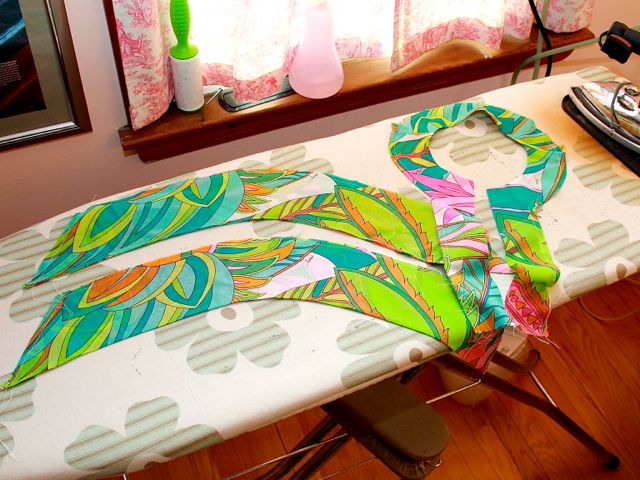 Doing it that way necessitated my cutting a band out of the main front piece: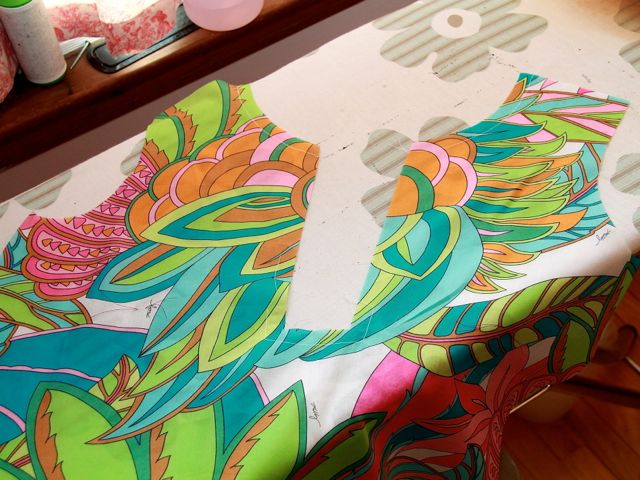 I lowered the bust dart one inch, sigh…
A couple of other things to note, and I'll get pictures later to show. At first, I used white thread. But I noticed that, since this fabric is quite sheer, the white thread showed through, especially if there were any loose threads or basting sandwiched in the bands. So I switched to a tan color thread that blends much better into the riot of colors in this fabric. Second, I applied the neckband, and I finished the seam allowances by running them through my serger. I didn't like the results – too much thread on this delicate fabric. So for the seams and sleeve bands, I ran a second line of straight stitching a scant 1/8th of an inch away from the seam (inside the seam allowance) and I trimmed very close to that. That gave a more satisfying result.
I made a 5/8 inch narrow hem at the side slits and the bottom.
Likes/Dislikes: As I say, this pattern was almost exactly what I envisioned for this fabric. I'll wear it next week in FL when I see my kids march down Main Street at Disney World. DS the Elder will be leading the band and conducting! It's a well-drafted pattern, which is a big plus. And I do really like the fact that Burda doesn't put too much ease in their sleeve caps. You already know what I don't like.
Would you do it again? Would you recommend it? With all the caveats about dealing with these patterns. I wouldn't recommend against it; if tracing/adding SAs is something you enjoy, then go for it.
Conclusion: A nice, breezy top. Here's a picture on Shelley: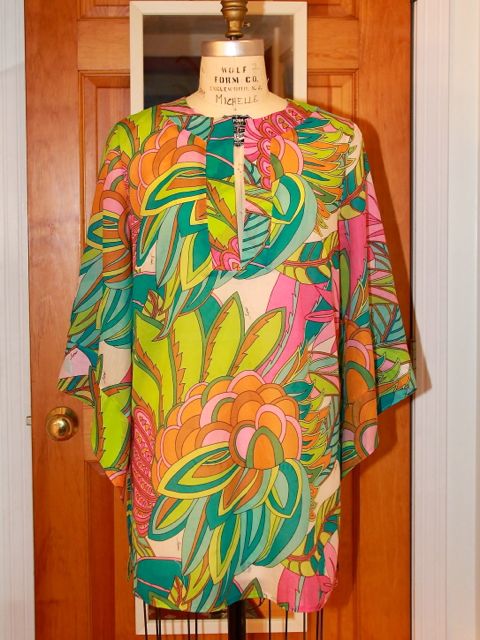 Happy sewing!