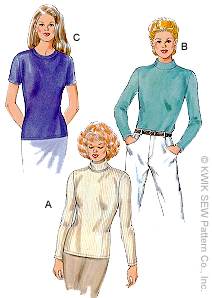 I've made this before, but not for a long time. Since Christmas is coming, I decided to revisit it. I want to use it as one-third of my holiday entertaining outfit. The other two-thirds are going to be the McCalls 6556 Top I wore to the Winchester Hospital Gala, and a pair of skinny black jeans that I plan to buy.
Pattern Description: Misses Out of Print pattern includes three different neckline variations, short and long sleeves. I made view B, the mock turtleneck.
Sizing: XS-XL. I made a size Small.
Fabric Used: Catherine Malandrino Wool Jersey in Black from Gorgeous Fabrics.
Needle/Notions Used: 1/4 inch twill tape from SewTrue, Stretch 11/75 needle. Thread.
Tips Used during Construction: Sewing With Knits, Press that Bad Mamma Jamma
Did it look like the photo or drawing when you got through? Yes.
How were the instructions? I've made this pattern before, so I didn't use them. It goes together very easily, and it is very well drafted.
Construction Notes: This pattern runs large, so go down a size. I made a size small, even though my measurements match the medium. Also, instead of using fusible interfacing to stabilize the shoulder seams, I used twill tape.
Likes/Dislikes: Great drafting, great basic pattern. It took me less than 2 hours from tracing off the size small to finishing the hems. It's a shame this pattern is out of print, because it is an excellent wardrobe staple.
Would you do it again? Would you recommend it? Yes and yes, as long as you keep in mind that it runs big.
Here's a picture of it on Shelley:
And here it is with 6556, wearing the scoop neck in front

Here, flipped around so the scoop is in back, and the neckline takes on a more bateau look.

Conclusion: Now I just need a pair of black jeans and I'm ready for the holiday hoopla to begin.
Happy sewing!