Pattern Description: From the website – This simple shawl collar cardi is suitable for a knit drapable fabric.
My additions: Loose fitting, cardigan jacket with set in sleeves, back cowl.
Sizing: 6-22. I made a 10.
Fabric Used: Storied Stripe Rayon Jersey from Gorgeous Fabrics (of course!)
Needle/Notions Used: Stretch 70/10 needle. Thread. And that's all, folks!
Did it look like the photo or drawing when you got through? Mostly – see the notes below for details.
How were the instructions? Pretty minimal. StyleArc assumes you know what you are doing. There were some instructions that could be confusing to a beginner.
Construction Notes: There is one big difference between the line drawings for this pattern and the actual pattern. If you look at the line drawing, they show a back cowl that is a single piece. In fact, it's got two pieces that are matched up at the CB. They kind of indicate that in the instructions. Here's a picture of the back cowl: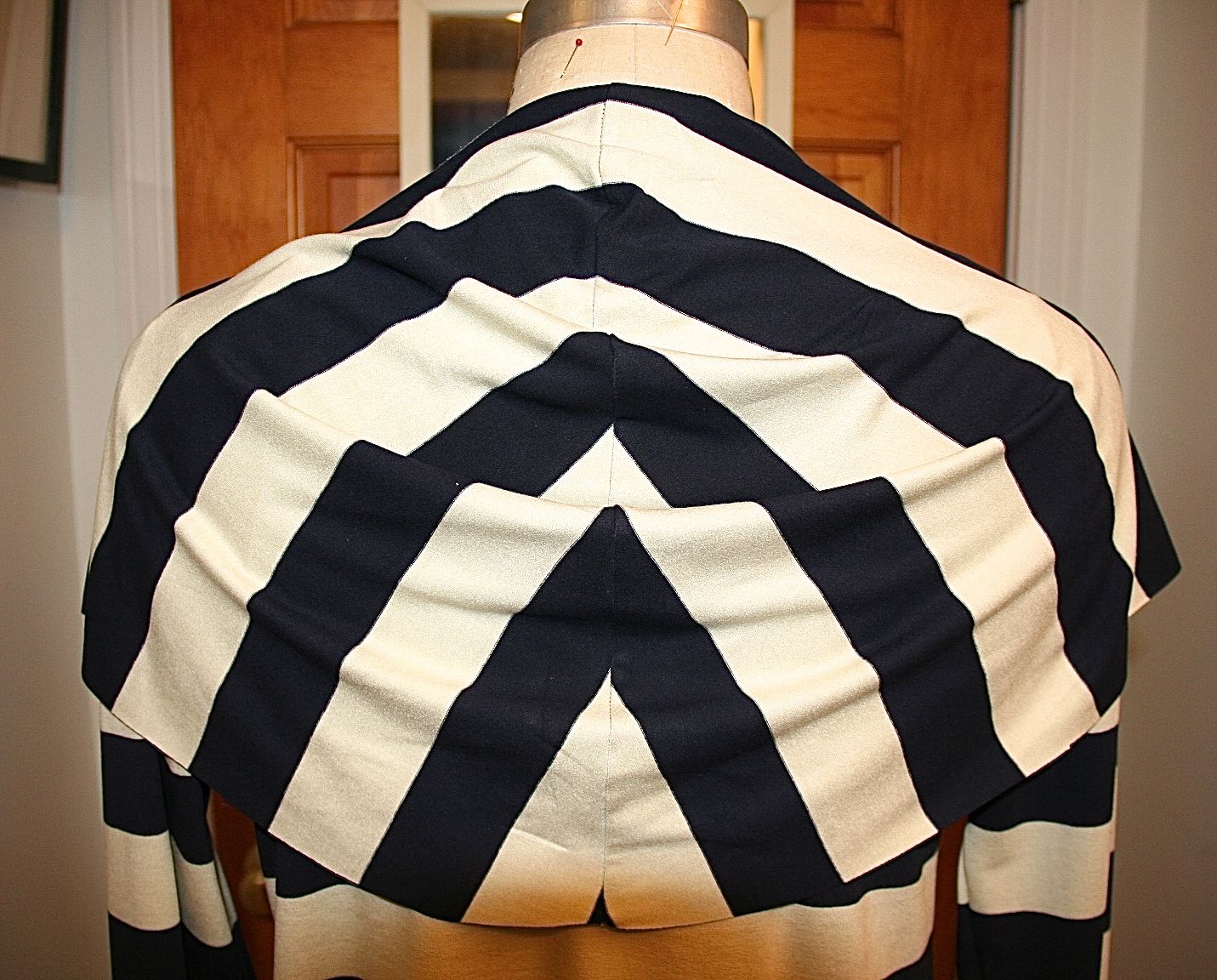 The instructions tell you to do a felled seam, but I ended up (after playing with it) doing a serged seam with wrong sides together, so they won't show on the back. I originally sewed RS together, but the serged seam was on the outside of the garment, so I ripped the stitching out and redid it with the wrong sides together and you can see the results above.
I did change the construction order slightly. Here are the first two steps I used
1 – sew the center back seam of the cowl.
2 – sew the shoulder and back neckline seams (Staystitch the pivot point first).
After that, you can sew the sleeve in to the armhole and complete the rest of the garment as directed.
The instructions also have you finish the seams with a narrow overlock. I didn't. I left the seams raw, inspired by a bunch of looks I saw at NYFW last week.
Likes/Dislikes: This is a fantastic pattern that goes together beautifully. There are a few (very) minor nits with the instructions, but if you have any experience, this is a great wardrobe builder.
Would you do it again? Would you recommend it? You bet! I would definitely make it again, and I highly recommend it.
Conclusion: Great wardrobe builder, and it looks fantastic in so many fabrications! Here are a bunch of shots: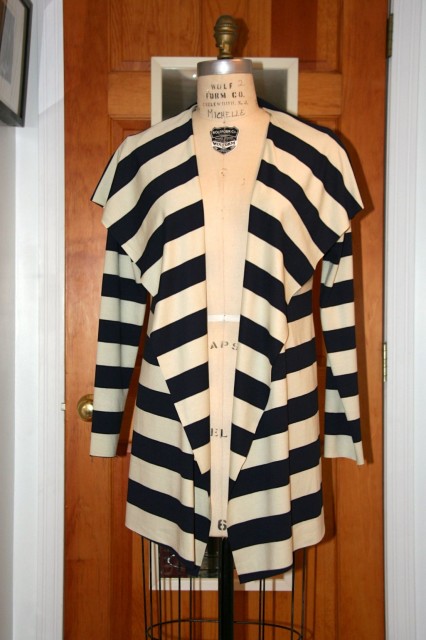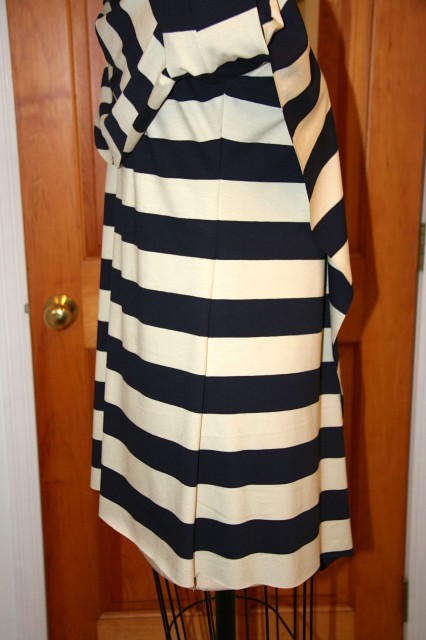 In other news…
On the home front, it's been a tough week. We lost someone very close. It was a long illness, but the final decline was really fast. So until Wednesday I'll be out of the office. I apologize in advance for any inconvenience this might cause. We'll ship orders that come in this weekend and early next week when we are back. I thank you for your patience and understanding.