Substitute Assistant Professor Ann is in the house! And class is in session!!! So, listen up! (double claps) Eyes forward. Put your electronic devices away, unless you're reading this post on one (oh, wait…) and give me your undivided attention! We're about to talk about waist stays.
What is a waist stay? Anyone? Anyone? I'll tell you. It's a cool little device used to make sure that your garment "stays" (get it?) in the proper place. Show of hands here. Who has been to a prom, semi-formal, gala, wedding or other occasion and seen women on the dance floor waving their hands over their heads and then reaching down and hoisting their bodices up? Maybe it would be easier if I asked who hasn't seen that.
Well, I can guarantee – them that spend the night hoisting? Their dresses do not have waist stays. A waist stay is a very simple thing to add to any garment, whether said dress is a custom made beauty or a store bought stunner. A waist stay is a piece of fabric that is cut to fit the waist (with no ease), and attached to the garment.
The best waist stays are made from petersham. Petersham is a type of ribbon. It looks like grosgrain ribbon, which you can find in most craft stores for making belts. The big difference, and this is important, is that petersham does not have the bound edge that grosgrain does. This lack of binding allows it to curve around you and hug your waistline comfortably. Also, petersham is made from rayon, which shrinks and stretches, making it ideal for shaping.
So how do you make a waist stay? Easy! Measure your waist, and cut a piece of petersham that is the length of your waist measurement plus 2 inches. Fold over each end 1 inch (double it to finish it nicely). Sew a waistband hook and eye to the ends. Tack the stay to your garment lining at the openings, and vertical seam lines, so it floats a wee bit away from the lining. Here's a picture of a waist stay for a bustier: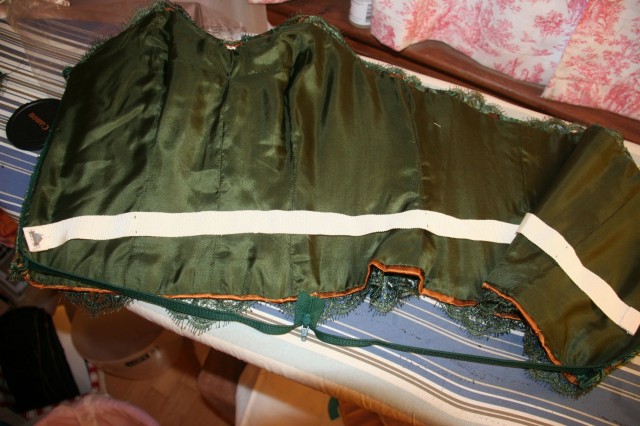 And here's a waist stay in a gown: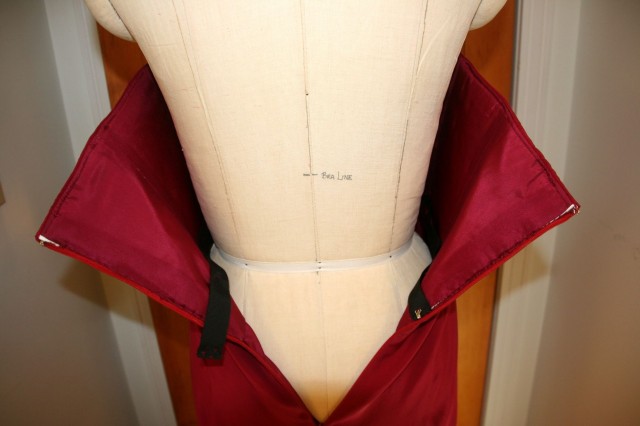 Now, you'll notice that it isn't actually sewn into the waistline seam. Think about it, there's wearing ease in the garment at the waist. There isn't any in the stay. In fact, there's slightly negative ease in the stay. You don't want the stay to be the same measurement as the garment. You want to let the garment have its ease, giving the garment and the wearer freedom of movement, while anchoring the garment to the wearer's body. And there is the key. That anchor eliminates the need to constantly pull up the bodice. It keeps the waistline in place, and it gives the wearer a smooth, comfortable experience. It's a critical addition to a strapless garment, but you can also use it to anchor garments with shoulders. It's a regular feature in couture dresses and gowns. So try adding one to your next project, or even to a favorite dress when you plan to do the pogo at your friend's wedding. You'll be glad you did.
Happy sewing!