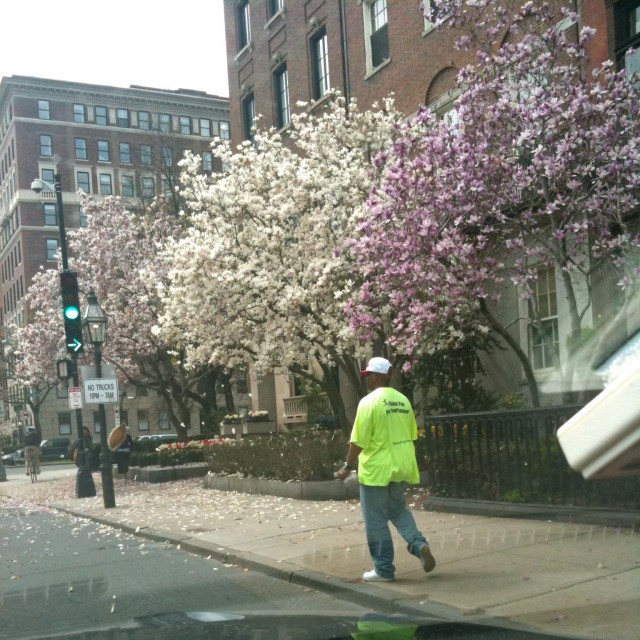 I've been busy with other things so blogging has taken a bit of a back seat. But I hope everyone is having a great April. Since today is the last day of the month, I figured it was time for a miscellaneous "stuff" post. To whit:

Have you seen today's Wall Street Journal? It has a magazine insert (WSJ magazine) that has a GREAT article on the 7 ateliers behind the House of Chanel. The article is online for the time being, so get a gander or run out and get a copy.
The Old World Artistry Behind the Modern House of Chanel.
Yesterday while walking the dog, Hoover imparted to us an important life lesson: "It's not how fast you walk, it's how thoroughly you sniff."
New Class at Gorgeous Fabrics Studio! For those in the Boston area, Phyllis and I will be teaching a 4-week class, Custom Fit Jacket Muslin Class. It will take place at the Gorgeous Fabrics Studio over 4 Saturdays in June. Click Here for Information and Registration

Many people have said it all about The Dress. I'll only add that I hope it puts a stake through the heart of the strapless wedding gown trend.
Finally, today is the day for the "Fast Fit" giveaway. If you want to be in on it, click on the button at the upper right corner of this blog to "like" Gorgeous Fabrics on Facebook. I'll use a random number generator to pick one lucky winner. The drawing will be somewhere in the 5PM hour (Eastern). I'll announce the winner in another post. Good luck and…
Happy Sewing!